HOME > Future for Fuji Baking Group

Fuji Baking Group is continuously advancing toward a more enriched
food life for people and society. With our motto, the focus on
customers' satisfaction, we will keep developing as a leading food
company in the 21st century.
Keeping the Spirit of the Founders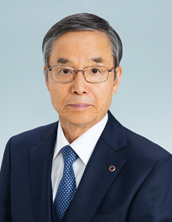 In 1922, a new bakery opened in Nagaoka-cho, Naka-ku, Nagoya. The little store, only about
5.4 meters wide, was named Kinjo-ken and was run by a married couple, Jinju and Kaneyo
Funahashi.
The store marks the foundation of the present Fuji Baking Group.
After World War II, we started preparing bread to be supplied as rationed food. In 1947,
we were designated as a general bread factory for rations.
Three years later, in 1950, we became an official supplier of school lunch bread.
Since then, our business has kept growing, increasing the number of new factories built at
many places. We have constantly taken a step forward, being the progenitor in various areas,
including the invention of the automated bread wrapping system and the epoch-making frozen
dough. In addition to the technological development, we have been endeavoring
to contribute to society with humanitarian spirit.
For example, we have provided food and given donations in time of disasters such as the Ise Bay
Typhoon, the Hanshin Awaji Earthquake, the Great East Japan Earthquake, and the eruption of Mount
Unzen Fugen.

We are grateful that we have now grown into Fuji Baking Group with over 17,400 employees
in total. Our motto is: "If you don't dream, you have no ideals.
If you have no ideals, then you have no plans.
If you have no plans, you'll never achieve anything.
If you never achieve anything, you'll never succeed.
Thus, if you don't dream, you'll never succeed."
With this motto, we continue to challenge our goals with dreams.

Since our foundation, we have been faithfully following the principle of our founder, Jinju
Funahashi: "History lies even in a piece of bread."
We have now introduced the holding company system, and under the new business management, we are determined to firm our business ground
currently composed of four major sections: Manufacture & Sale, Retail Bakery, Delicatessen, and Logistics.
We are in the times when we face a social transition caused by aging and low birth rate and
confront worldwide issues such as crude oil production and environmental protection.
We take these changes into serious consideration and will examine our whole business from
the standpoints of "customers as our top priority" and "quality as our top priority."
Our former COO, Shigeaki Funahashi, advocated "the importance of choice and concentration",
by which he meant business stability to be realized by massive and effective use of raw materials in our specialized production.
We respect his business strategy, and in order to gain a synergistic effect to be produced
by the whole group companies, each and all members at Fuji Baking Group will cooperate
and strive toward our business dreams.