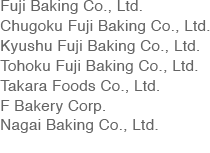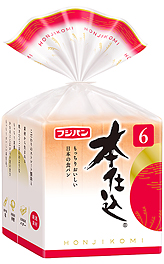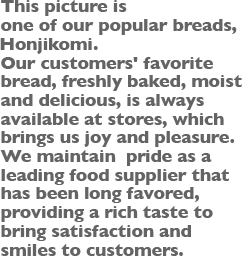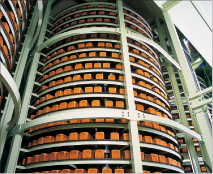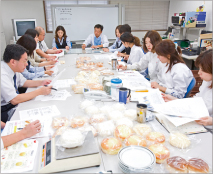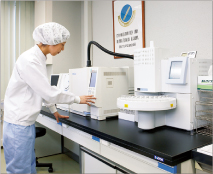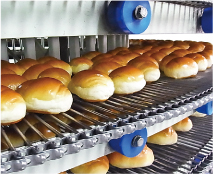 Deliciousness at the Table, Bringing Smiling Faces
Fuji Baking Group Supports Food Life with Bread.
Toast on the breakfast table, sandwiches under the sunshine, sweet bread at the tea or
coffee break — bread plays an important role in various life scenes.
To create food products that suit the taste and lifestyle of Japanese people,
as well as to enrich their food culture, is what we pursue as a wholesaler.
In order to be a leading company in the nation's baking industry,
we take up challenges with progressive ideas and expand our lines of products
by strengthening our marketing.
Meeting Modern Dietary Habits with Our Creativity and
Innovative Food Production
As current lifestyles change, so do eating trends. This is a fact which makes it essential
to discover what tastes will appeal to our customers,
as well as to focus on quality with more variety instead of quantity.
Currently, the number of our merchandise items exceeds 1,200, including toast loaves
and rolls eaten at meal times, and sweet breads for the tea or coffee break.
Our aim is to maximize the value of each product, so that more and more
customers can choose and taste the different varieties.
Finest Quality Control Leads to Trust and Stability in Our
Food Supply.
Safety and Reliability Are Assured through a Strict Production Control System.
In order to pursue a higher level of safety and excellence in our food products, the choice of
ingredients and innovations both in the production process and the facilities have
been constantly monitored. Our production lines boast an advanced control system by
which top quality food is manufactured at every Fuji Baking Group factory,
employing strict hygienic measures.
At some production lines, HACCP (Hazard Analysis and Critical Control Point)
have been implemented to eliminate any possible hazard which may affect hygiene
and quality during the process.
Each Staff Member Is Responsible
for Developing the Reliability of Products.
Essentially speaking, since we deal with food, each of our staff members is highly
responsible for the safety and reliability of the products.
At every section of Fuji Baking Company Group, we have adopted a "Declaration of
Safety." Therefore, from the purchase of the raw materials to the completion of products,
every step is carefully checked. In addition to scrupulous cleaning up and
thorough hand washing, of course, all of our staff members are devoted to strict quality and
sanitation controls. Our first priority is to make every effort to uphold our reputation:
"Customers can trust all the products of Fuji Baking Company Group."
New or Long-selling, All of Our Products Are
Made to Satisfy Our Customers.
Aggressive Information Gathering Results in the Development of
Best-selling Products.
The food business market has become diversified while the competition is getting
tougher. Fuji Baking Company Group strengthens the development of new products,
making our best efforts to create best-selling items which meet the current
food-market trends as well as customers' needs.
For example, Honjikomi Bread, our leading brand popular with its distinctive
"mocchiri (moist and glutinous)" taste, is brought into the market after intensive
research on what tastes suit Japanese.
Other kinds of products, such as Neo Butter Rolls, which come with margarine
and eliminate the trouble buttering, are also our best-selling items following
Honjikomi Bread.
Only Thorough Research and Analysis Can Bring Success to
New Products.
Honjikomi Bread, which has become popular with its distinctive "mocchiri"(moist
and glutinous) taste, is created at this research laboratory. Here, not only analysis on
raw materials, production process, quality, and hygiene is carried out, but also
continuous research and experiments are carried out in order to apply various ideas to the
development of new merchandise. A wide range of laboratory work is conducted to
find the best mixture of ingredients and baking methods as well as some production
adjustments, if necessary, which stabilize the finest quality of each product.
Only the items that can meet our stringent standards for safety, rich taste, and
distinctiveness will be brought into the market, labeled as new Fuji products.